St. Paul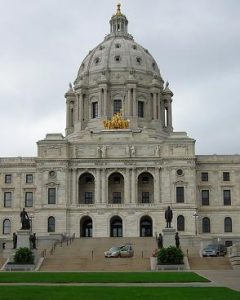 651-259-3292
General hours are Monday-Friday 8:30-5:00, Saturdays 10-3, Sundays 1-4.
From March 1st until June 9th, tours are offered M-F, from 9-4, Saturdays, 10-2 and Sundays 1-3.
The remainder of the year, tours are from 10-2, M-F.
All tours occur at the top of the hour and last 45 minutes.
Weekend hours may be available during the remainder of the year; please call ahead to confirm prior to your visit.
The building is open on July 4th.  It is generally closed Thanksgiving, December 25th and January 1st.  The building may also close for other holidays; please call ahead to confirm.
Map to the Capitol Building in St. Paul
Minnesota Capitol Website
The stamp for Minnesota is at the information desk.
This information was updated in March of 2018.
If you've visited the capitol in St. Paul and would like to share something with other capitol travelers, email us at:
kevin@thecapitolcollection.com
Comments from readers
I would recommend visiting when the temperature is over 40; otherwise you won't get to see the golden horses!
Phierl