Columbia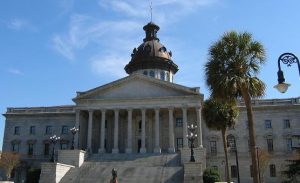 803-734-2430
General hours M-F from 9-5 and Saturdays 10-4.
From January through May, tours are offered every half hour, 9:30-11:30 and 1:00-3:30.
During the rest of the year, tours are offered at 9:30, 10:30, 11:30, 1:30, 2:30 and 3:30.
The capitol is closed all Sundays and on major holidays.  Weekend availability near Thanksgiving and Christmas is variable; visitors are advised to call ahead to determine availability.
Please note that hours are subject to change without notice. The capitol asks that you call ahead to verify tour information prior to your visit.
Map to the Capitol Building in Columbia
South Carolina Capitol Website
The stamp for South Carolina is located at the gift shop.
This information was updated in June of 2018.
Comments from readers
Having visited them all, this one has the best history.  Lots of great stories.
Ned J.
If you've visited the capitol in Columbia and would like to share something with other capitol travelers, email us at:
kevin@thecapitolcollection.com