Montpelier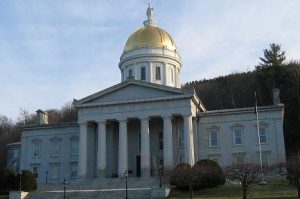 General information: 802-828-2228
Call 802-828-1411 for the School Tour and Field Trip Coordinator.
From July through October, the capitol is open M-F 8-4:15 and Saturdays 11-2, with guided tours offered during the week, from 10-3 and on Saturdays 11-2:30.
The remainder of the year, the capitol is open for self-guided tours M-F. Please call ahead to determine if a guided tour may be available.
The capitol is closed on Sundays and standard holidays, including the day after Thanksgiving. Also, the capitol is closed every August 16th to remember the Battle of Bennington!
Map to the Capitol Building in Montpelier
Vermont Capitol Website
The stamp for Vermont is located in the Sergeant-at-Arms office #2, just off the lobby.
This information was updated in June of 2018.
If you've visited the capitol in Montpelier and would like to share something with other capitol travelers, email us at:
kevin@thecapitolcollection.com