Richmond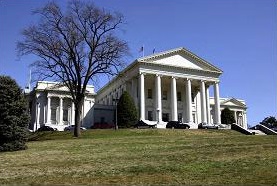 804-698-1788
General hours are Monday through Saturday from 9-5, Sundays 1-5.
Guided tours Monday – Saturday 10 a.m. – 5 p.m., with the last tour at 4 p.m., Sunday 1 p.m. – 5 p.m., with the last tour at 4 p.m.
Please note that while the first public tour of the day is at 10:00 a.m., 9:00 and 9:30 a.m. tours are available by appointment for large groups.
If you are coming with a group of ten or more, please call ahead to schedule a tour.
The underground extension of the capitol building has food options as well as a gift shop.
Public entrance at 1000 Bank Street.
The 21-minute welcome film, "Keepers of the Flame," shows on a variable schedule; call ahead for availability.  The folks at the capitol in Richmond suggest viewing prior to your visit, to prepare you for this exciting visit.  To visit the site with the film, click here: Keepers of the Flame.
Map to the Capitol Building in Richmond
Virginia Capitol Website
The stamp for Virginia is located at the Bank Street tour desk.
This information was updated in January of 2018.
If you've visited the capitol in Richmond and would like to share something with other capitol travelers, email us at:
kevin@thecapitolcollection.com
Comments from readers
This was #40 on my quest. I got there late in the day so I could not take the tour. The visitor entrance is one of the more unique ones that I have been to and is very visitor friendly. The scale of the building is modest compared to many the other capitols.
-a capitol visitor